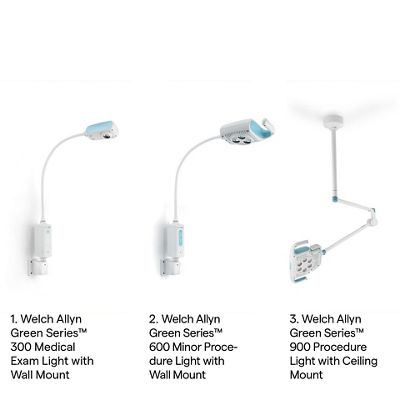 Whiter, Brighter and Greener
Welch Allyn Green Series Medical Exam Lights provide a brighter, whiter light and consume less energy than traditional halogen lights. See true tissue color within a well-defined lit field during an exam or procedure while also reducing your cost of ownership. A variety of models and mounting options available.
Improve staff productivity and satisfaction with easy assembly and cleaning
Help reduce risk of cross-contamination with touchless On/Off
Maximize floor space with multiple mounting options
LED life of 50,000 hours to maximize investment
Welch Allyn® Green Series ™ 600 Minor Procedure Light and Welch Allyn® Green Series ™ 900 Procedure Light features touchless intensity and power controls and optional disposable sheaths to help reduce risk of cross-contamination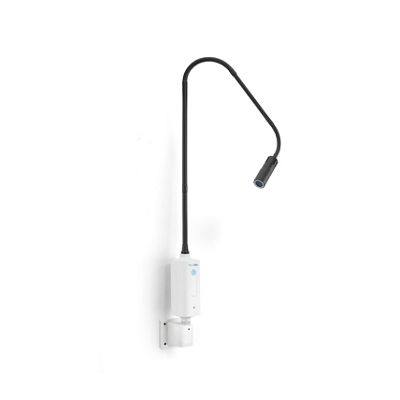 Green Series™ Exam Light IV
Perfect for women's health facilities or specialties that require very focused light in specific areas. Featuring a light pipe that is highly flexible and twice as long as conventional pipes, the Green Series Exam Light IV provides an unobtrusive exam for you and your patient. With a bright, single LED light that provides 3x the typical output of halogen and consumes less energy for improved facility efficiencies—now you can see true tissue color rendition while reducing your current cost of ownership.

Highly flexible pipe for easy maneuverability, helping to improve patient exams 

Pinpoint accuracy and true tissue color with 3x the output of a halogen source
Maximize floor space with multiple mounting options, including exam tables
Help reduce risk of cross-contamination with touchless On/Off and optional sheaths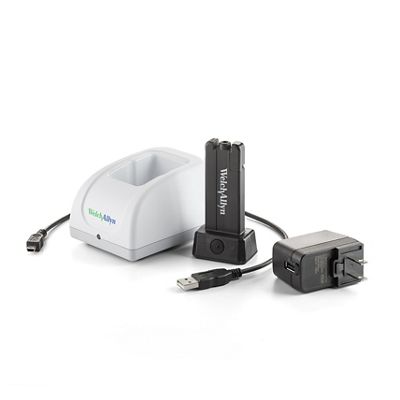 800 Series KleenSpec® Cordless Illumination System
The Welch Allyn 800 Series Cordless Illumination System is a unique design with enhanced features including bright, white LED light to help improve patient exams. The compact, efficient system offers on-time of 80 minutes that will get you through the day, and recharges in 5 hours. Standardize your facility with KleenSpec Cordless Illumination Systems and KleenSpec Disposable Specula to help please both your staff and your patients.

For use with the KleenSpec Disposable Vaginal Specula
No bulb replacement necessary, for reduced cost of ownership  
Compact LED light source with homogenous spot improves exam area visualization
Push-button on/off
Single-use sheath available to help reduce the risk of cross-contamination
Produces much less heat than traditional lamps, to help improve comfort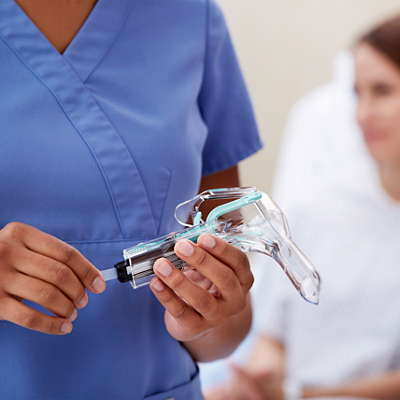 Keep Safe with Single Patient Use Solutions 
By eliminating the need to clean and reprocess items that directly touch the patient. Introducing single patient use solutions can create a greater sense of comfort and confidence that risk of cross-contamination is being mitigated.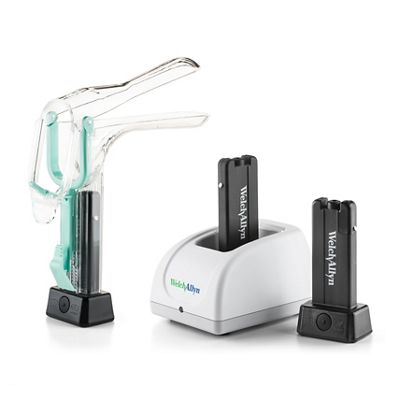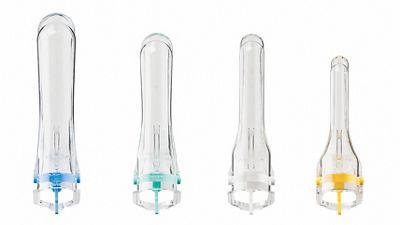 KleenSpec® Disposable Vaginal Specula
Designed to eliminate the time and expense of reprocessing metal specula and to reduce the risk of cross-contamination.
Clear acrylic allows complete visualization of the vaginal canal
Wide, ergonomic handle improves balance for easier manipulation during exams
Available in a broad range of sizes, for all types of patients
Look for the color-coded Welch Allyn handles
Smooth acrylic will not pinch or blind tissue for improved patient satisfaction
Strong grip and yoke designed to be more flexible and robust than low cost substitutes
A reference to any product on this site does not imply that such product is or will be available in your location. Please contact your authorized country representative for specific product availability in your country. 
*Always Read Labels and Instructions for Use. Contact your Hillrom Representative for the latest version.