Smarter Cardiology Tools That Help You Assess, Diagnose and Treat Every Patient with Confidence 
 Hillrom's diagnostic cardiology solutions help simplify workflows and provide a secure connection to patient data so you can focus on what matters most—delivering quality patient care.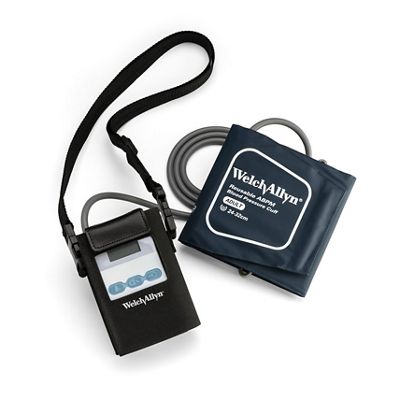 ABPM 7100 Ambulatory Blood Pressure Monitor
Help avoid white coat hypertension, track sleep readings and tailor drug therapy regimens with simple, 24-hour ambulatory blood pressure monitoring.
The ABPM 7100 is an easy-to-use ambulatory blood pressure monitor. Powerful analysis software lets you examine readings more effectively so you can diagnose potential patient complications.
Meets or exceeds the latest AAMI, EHS standards and has a BHS A/A rating
Features unlimited protocols for programming measurement periods and inflation frequencies 
Lightweight, compact and quiet 24-hour blood pressure monitoring device can help improve patient compliance
Upgradable to add Central BP and Pulse Wave Analysis (not available in the U.S.)

Auto Feedback Logic during inflation helps improve patient comfort and acceptance
Latex-free cuffs help reduce the risk of patient allergic reactions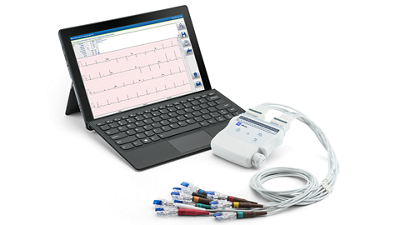 Welch Allyn®

Diagnostic Cardiology Suite™ ECG
Designed with your workflow in mind, the Diagnostic Cardiology Suite includes ECG and spirometry capabilities to help you shorten the path to diagnosis. Our flexible platform can adapt to meet your clinical needs — whether you want to perform both exam types or prefer standalone diagnostic ECG or diagnostic spirometry solutions. 
The ECG analysis software helps to streamline your workflow
See the critical waveform data you need; the VERITAS® ECG algorithm limits filtering
Capture ECGs wirelessly with the Wireless Acquisition Module (WAM™)
Help reduce repeat ECGs by capturing the best 10 seconds of ECG data from memory
Comply with ACC, AHA and HRS recommendations for adult/pediatric patient ECGs
Take advantage of DICOM® and HL7® communication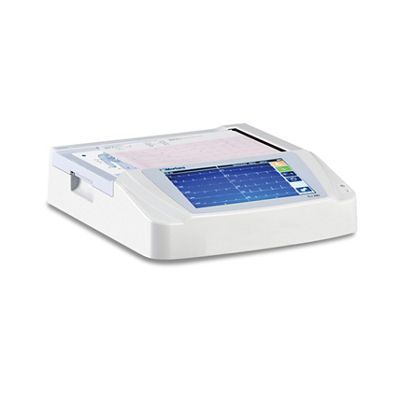 Welch Allyn®

ELI® 280 Resting Electrocardiograph
The ELI 280 Resting ECG device is a portable, easy-to-use, touchscreen solution designed for high-volume ECG environments—from the physician's office to the hospital. Its widescreen data layout provides simple menu navigation, fast patient data entry and clear verification of proper electrode connections. 
Captures the best 10 seconds of ECG data from memory, reducing need for repeat ECGs 
VERITAS algorithm uses gender-specific, adult and pediatric criteria for interpretations
Optional wireless data acquisition increases workspace flexibility so you can move freely around the room 
Supports pacemaker spike detection with 40,000 sps/channel data capture
Includes hook-up confirmation by detection and display of lead reversals
1k sps/channel capture for signal assessment during analysis, display and printing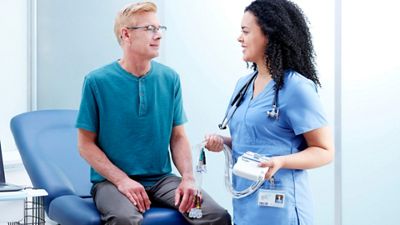 Wireless Freedom
With our Wireless Acquisition Module (WAM™), you can capture ECGs untethered from patients, so you can move freely throughout the exam room without cabling to get in the way. And because the ECG and acquisition module have a wireless connection, the ECG no longer needs to be at a bedside—helping you monitor patients in isolation or critical situations.
H3+™ Digital Holter Recorder
Weighing in at just 28 grams, the H3+ holter kit is small and lightweight, making it very comfortable for patients. The H3+ ECG holter monitor system features a full graphic display to preview ECG waveforms during patient hookup — which can be performed in any convenient location. 

3-channel recording with standard pacemaker spike detection
One AAA battery provides two days of continuous recording
Analysis system features VERITAS signal processing and analysis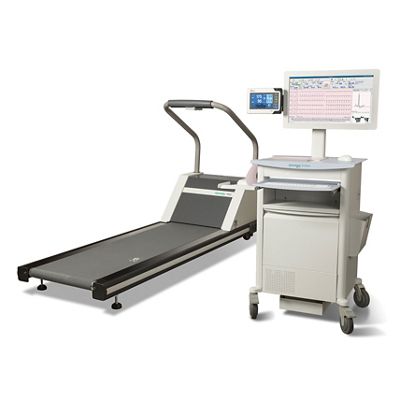 Q-Stress® Cardiac Stress Testing System
The Q-Stress system's intuitive user interface helps you access the diagnostic information you need — quickly. Our best-in-class algorithms offer exceptional accuracy in real-time
ST-segment monitoring, arrhythmia detection and resting ECG interpretation. The stress test system's complete clinical data presentation shows you patient information on one screen with a 24-inch display, and the intuitive left-to-right workflow leads you through stress tests with all settings just one click away. 

VERITAS® algorithm offers exceptional accuracy in real-time ST-Segment Monitoring, arrhythmia detection, and resting ECG interpretation
Source Consistency Filter removes noise and maintains ECG integrity
Real-time full disclosure lets you review historical ECG data throughout the exam
Optional wireless data acquisition increases workspace flexibility
12-lead ECG interpretation for adults, adolescents and children
Standards-based HL7® and DICOM® bidirectional connectivity
Interested? Let's Talk. 
Complete this form to have your Hillrom representative who will help you assess your challenges and recommend the right solution for you and your practice.

A reference to any product on this site does not imply that such product is or will be available in your location. Please contact your authorized country representative for specific product availability in your country. 
*Always Read Labels and Instructions for Use. Contact your Hillrom Representative for the latest version.