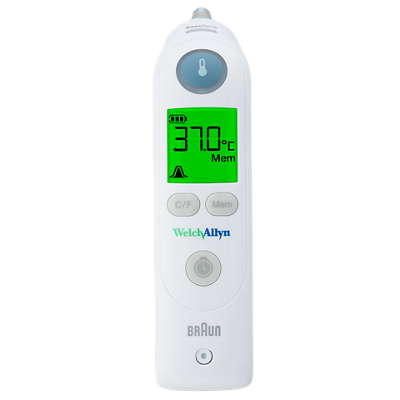 Braun Thermoscan Pro 6000 Ear Thermometer
Experience the speed and simplicity you need to capture accurate temperature readings
As clinicans, you're continuously striving to elevate patient care. 
The tools you rely on day-to-day play a big role in your efforts. Do you have advanced diagnostic tools to support the physical exam, diagnosis and treatment plan? See how Hillrom's latest line of physical exam tools is inspiring new confidence with bigger, brighter views. Take temperature in more accurate body sites with disposable probe covers to mitigate risk of cross-contamination
Let Us Change Your View

The future of diagnostics is bigger and brighter. Uncover Hillrom's new line of Welch Allyn physical exam tools and systems and enhance your capabilities and exam today.
MacroView® Plus Otoscope + iExaminer™ System
Ready to enhance ear exams and support those related to otitis media diagnosis? Empower challenging exams with our new, digitally-capable MacroView Plus Otoscope and the ability to capture images of the ear for patient and parent education and tracking signs and symptoms.
Long lasting LED illumination
3X larger viewing area
MacroView Plus Otoscope can be combined with our iExaminer SmartBracket accessory and your smart device, to capture and save the best images from an ear exam
For up to 8X* brighter views, pair with our LumiView Clear Single-Use Ear Specula
*LumiView Clear ear specula support a 4X brighter view through an adult sized speculum and an 8X brighter view through a pediatric size speculum when compared to black specula.

Game Changing Views

Our new PanOptic Plus Ophthalmoscope features Quick Eye™ alignment and a 20X larger viewing area, two advantages over a traditional ophthalmoscope to support challenging exams. 
PanOptic™ Plus Ophthalmoscope
+ iExaminer System
Using an ophthalmoscope and aligning to the optic disc takes practice and precision. Whilst fleeting views are common in ophthalmoscopy, the PanOptic Plus Ophthalmoscope can be combined with our iExaminer SmartBracket accessory and your smart device, to capture and save the best images from an eye exam. 
20X larger viewing area when compared to a standard or pocket ophthalmoscope
Long-lasting LED illumination cuts down on need for lamp replacement
Quick Eye alignment lights on the patient side help you direct patient gaze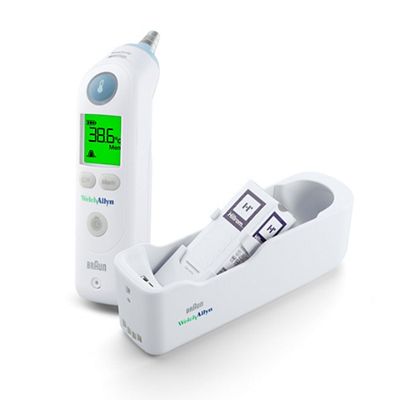 Braun® ThermoScan® PRO 6000 Ear Thermometer
Capture fast temperature readings with our ear thermometer. The Braun® PRO 6000 adjusts for factors that can impact accuracy—helping to overcome the potential for low readings compared to core.
Experience the speed and simplicity you need to capture accurate temperature readings—and keep your patients comfortable. The Welch Allyn Braun® ThermoScan® PRO 6000 ear thermometer features advanced PerfecTemp™ measurement technology. The sleek design is easy to clean, and its upgraded security features help protect and maximize your investment.
Innovative PerfecTemp technology adjusts for variability in probe placement
ExacTemp™ technology detects stability of the probe during measurement  
Quick, accurate readings which may help improve patient satisfaction
60-second pulse timer assists with manual measurement of pulse and respiration rate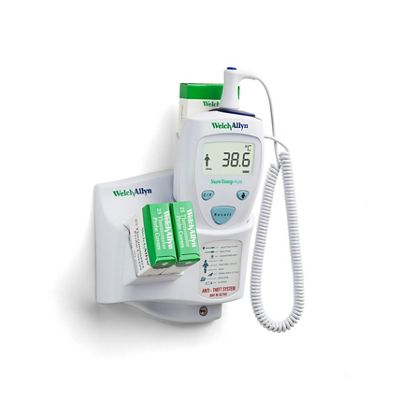 SureTemp® Plus Oral/Axillary/Rectal Thermometer
The Welch Allyn SureTemp digital thermometer can be used as an oral thermometer, rectal thermometer and axillary thermometer. It has long been the gold standard in hand-held and integrated thermometer parameters, providing accurate, reliable readings for all patients.
Concerned about cross-contamination? The SureTemp 690 and 692 are designed with patient safety in mind. Each uses disposable probe covers, and its oral/axillary and rectal probes and probe wells are interchangeable—so you can quickly disinfect as you switch between modalities.
Convenient storage for 25 probe covers   
Last temperature recall button
Security wall mount protects against theft
Captures about 6,000 readings on 3 AA batteries(690 Model)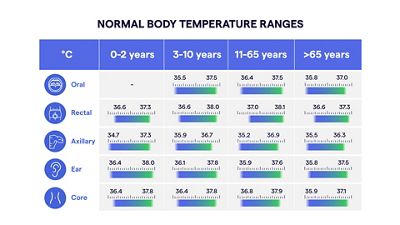 Normal body temperature is a range. This table shows that normal temperatures vary by site. Therefore, readings from different sites, even if taken at the same time, should not be directly compared.
References are located in Operator's Manual.
Interested? Let's Talk. 
Complete this form to have your Hillrom representative who will help you assess your challenges and recommend the right solution for you and your practice.

A reference to any product on this site does not imply that such product is or will be available in your location. Please contact your authorized country representative for specific product availability in your country. 
*Always Read Labels and Instructions for Use. Contact your Hillrom Representative for the latest version.