Events
The 2021 theme for World COPD Day will be "Healthy Lungs – Never More Important". This year's aim is to highlight that the burden of COPD remains, in spite of the ongoing global COVID pandemic. Airway clearance is essential to removing excess mucus to ensure easier breathing and enjoy the activities for COPD patients.
For more information, visit https://goldcopd.org/world-copd-day/
#WorldCOPDDay2021
Webinars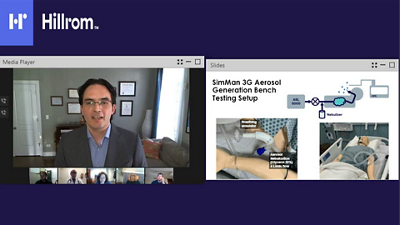 On-demand Webinar: Aerosol Generation Considerations in Oscillation & Lung Expansion (OLE) Therapy for the Treatment on COVID-19 Patients.
Panelists discuss their current AGP protocols, new data about aerosol generation during OLE therapy, and how OLE is treating COVID-19 patients safely and effectively.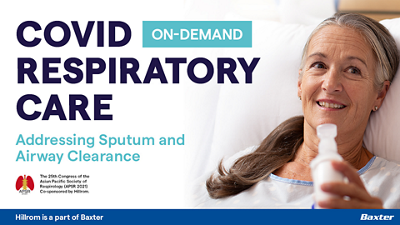 On-demand Webinar: COVID RESPIRATORY CARE - Addressing Sputum and Airway Clearance
Patients who are critically ill with COVID-19 pneumonia have lower airways filled with highly viscous exudates or mucus that led to airway occlusion, posing a particularly life threatening problem. Hence, controlling the airway clearance of severely ill COVID-19 patients has become one of the most important targets of COVID-19 treatment. Join us on the 21st of November 2021 to learn more about airway clearance techniques used in hospitals in China and current best practices using High-Frequency Oscillation Therapy on COVID-19 respiratory care.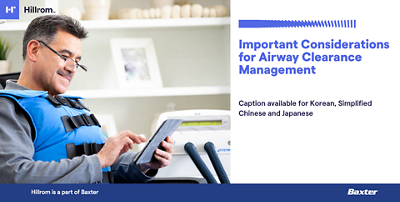 On-demand Webinar: Important Considerations for Airway Clearance Management
Ineffective airway clearance is the inability to maintain airway patency and can lead to acute or chronic problems. The impairment of secretion removal directly affects tissue oxygenation and likely falls into the cycle of infection and inflammation. Please join us with Dr. Kenneth Chan, Dr. Seong Woong Kang, and Physiotherapist Joanne Leavitt as they discuss the importance of airway clearance in patients with respiratory problems, global guidelines, and recommendations for airway clearance maintenance.
Join us to stay tuned for the latest news.
Complete this form to have your Hillrom representative who will help you assess your challenges and recommend the right solution for you and your practice.
A reference to any product on this site does not imply that such product is or will be available in your location. Please contact your authorized country representative for specific product availability in your country. 
*Always Read Labels and Instructions for Use. Contact your Hillrom Representative for the latest version.