Cardiologist Unveils Technique to Help Reduce the Risk of the Misdiagnosis of Hypertension
Evidence suggests that blood pressure measurements during physical examinations in doctors' offices can be inaccurate due to multiple factors.1 Saint Francis Hospital cardiologist Dr. Robert Smith unveils the findings of his retrospective study and highlights the device behind his methodology.
Explore our factsheets for more information on key facts about hypertension and how to detect, diagnose and manage the condition.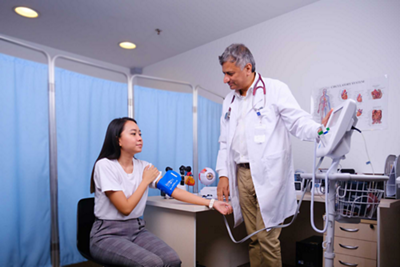 7 Key Facts and Hypertension Statistics Your Patients Should Know
To help educate your patients and staff, we've created a helpful infographic that conveys key facts and statistics about hypertension including how to detect, diagnose and manage the condition from inside the office to the home.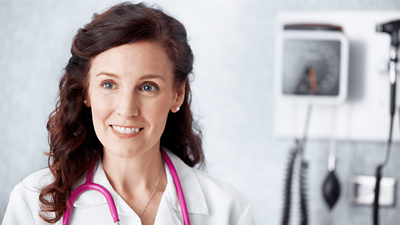 A misdiagnosis that leads to unnecessary treatment or the absence of necessary treatment is a mistake no clinician wants to make.
Data suggests that when the initial blood pressure (BP) measurement was in the Stage 1 hypertension range, repeating the BP measurement resulted in reclassification to a non-hypertensive BP 21.0% to 35.5% of the time.2 A significant proportion of patients with office BP levels indicating hypertension show normotensive levels upon repeat measurement.2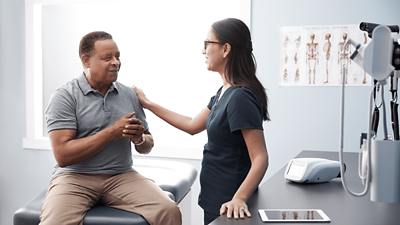 Vital Considerations: Automatic Blood Pressure Devices Can Deliver Long Term Benefits in Primary Care
The objective of this study was to compare the exam time and the equivalent cost per exam using manual and automated blood pressure devices, to determine the most efficient and cost-effective process.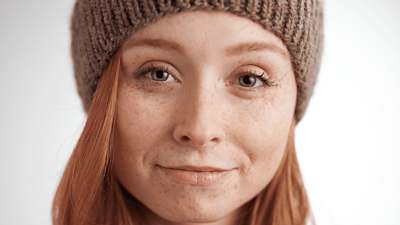 Rethink Your Hypertension Program: How Blood Pressure Averaging Can Improve Hypertension Diagnoses
To better understand the benefits of blood pressure averaging, researchers compared the accuracy of single, in-office readings with multiple, averaged readings. 
A patient's own movement—voluntary or accidental, can make blood pressure readings inaccurate. That's why it's important to equip your practice with solutions that can capture accurate blood pressure readings in the presence of movement. Many Hillrom vital signs solutions use the Welch Allyn SureBP® algorithm, which can do just that, helping to improve your patient data quality and increase your clinical efficiency.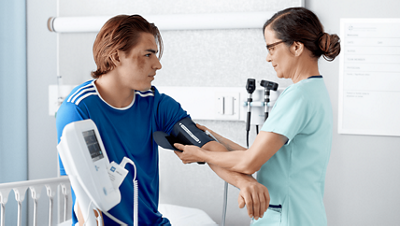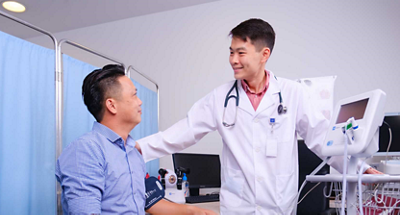 Hypertension Evaluation and Management
The accuracy of blood pressure readings can be impacted by several variables and can make a diagnosis of hypertension challenging.3 


Learn how averaged, automated readings taken regularly can help detect, diagnose and manage hypertension.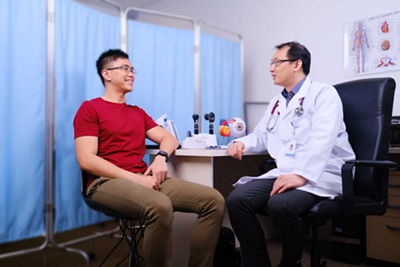 How to Talk to Your Patients About Home Management of Hypertension
To help confirm and manage hypertension, home blood pressure monitoring is considered a viable method.4 Its out-of-office BP readings provide physicians with critical data including the patient's blood pressure in their natural environment and response to treatment.4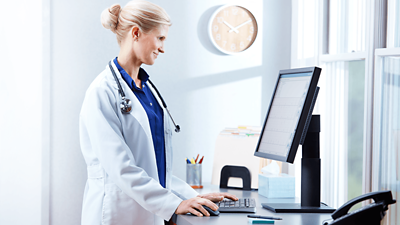 How to Treat the Different Stages of Hypertension
There is a strong correlation between blood pressure levels and CVD risk—the higher the BP, the greater the CVD risk.5 Therefore, it is important for healthcare providers to know how to treat the different stages of hypertension.
Would you like to understand how to effectively treat the various stages of hypertension to help prevent its dangerous effects?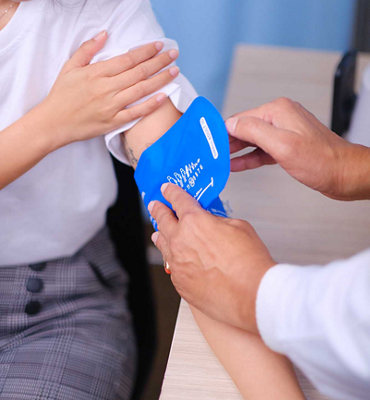 Benefits of Ambulatory Blood Pressure Monitoring
Ambulatory blood pressure monitoring is superior to office blood pressure in predicting cardiovascular events.4
Find out what makes ABPM the gold standard in diagnosis hypertension.

Physician's Guide to Hypertension
High blood pressure can put a patient at risk for heart attack, heart failure, stroke, and kidney disease.6
Check out the eBook below, The Physician's Guide to Detecting, Diagnosing and Managing Hypertension, to learn more about hypertension and how automated BP solutions can help you accurately detect, diagnose and manage the condition from the office to the home.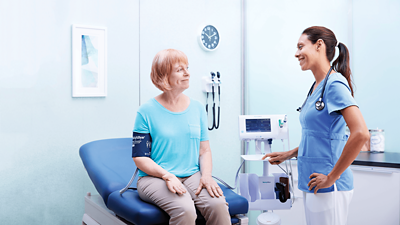 Three Ways Your Workflow Can Hinder Hypertension Management
When it comes to diagnosing hypertension, accurate blood pressure readings are non-negotiable. 


Here are three common situations in busy primary care practices that could potentially impact how you diagnose and treat your patients relative to blood pressure, and how you can address them.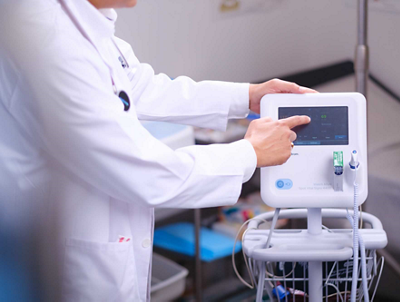 A Change For The Better
Usability and preference testing compares
the new Welch Allyn® Spot Vital Signs® 4400
Device to previous solutions and manual
workflows with positive results.9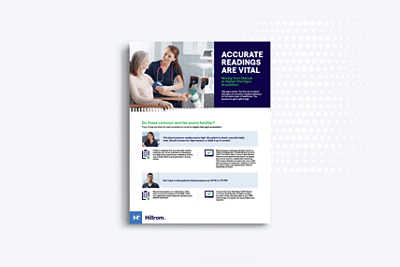 Moving From Manual to Digital Vital Signs Acquistion
Vital signs matter. The first set of patient vital signs can provide a baseline reference for the entire chain of healthcare. The pressure to get it right is high.


Is it time for your practice to move to digital vital signs acquisition?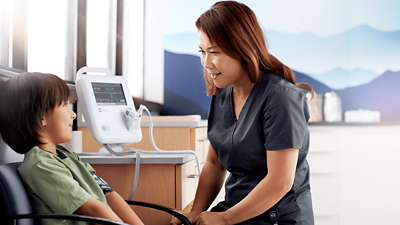 Does Movement Matter?
Acquiring an accurate blood pressure reading can be challenging, especially for pediatric and geriatric patients who may struggle to remain still throughout a reading.
Hillrom's latest innovation, the Welch Allyn Spot Vital Signs 4400 can help.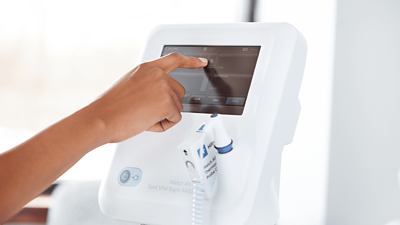 To Average Or Not To Average?
Should blood pressure (BP) averaging be part of your practice? Feel confident in your hypertension screenings and help limit reading-to-reading variability by adding BP averaging to your practice.10
You may have heard about blood pressure averaging, but do you know how it can help improve hypertension screening? Capturing and averaging multiple blood pressure readings provides a more accurate view of your patient's heart health, so you can detect hypertension with confidence.10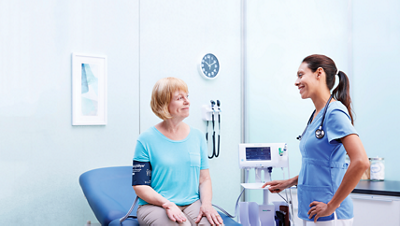 Welch Allyn® Spot Vital Signs® 4400 Device
The Spot Vital Signs® 4400 Device helps you capture, access and document patient vital signs so you can focus on what matters most — your patients. 
Gives you a simple, all-in-one, touchscreen solution for measuring patient vital signs. Now you can quickly capture a full set of vitals — including temperature, blood pressure, pulse rate and SpO2— right from the home screen.
Our spot vital signs device's integrated SureBP® and SureTemp® Plus technologies give your care teams fast and accurate measurements.
With preferred blood pressure (BP) averaging built into the main workflow, you can take and average multiple BP readings for hypertension detection. 10
---
Welch Allyn® Connex® Spot Monitor
Discover comprehensive monitoring—from basic vitals capture to early warning scoring and interval monitoring—in a simple, secure, connected solution. 
H

elp enhance productivity and patient outcomes by capturing a full set of vital signs in less than a minute. 

With an easy-to-use, vivid touchscreen display, the Connex Spot Monitor provides the accurate vital signs measurements you need—including blood pressure averaging, custom scoring and spot check or interval monitoring. 

With secure EMR connectivity, you can send vitals data directly from the bedside to a patient's chart—reducing manual data entry to help minimize errors so you can spend more time with your patients. 11
---
Welch Allyn® Connex® Vital Signs Monitor
With more patients on your MedSurg floor that are sicker than they used to be, you need a vital signs monitoring solution that can continuously monitor your patients, even when you can't. 
Capture standard vitals — like temperature, blood pressure, pulse rate, and SpO2 — in a single, automated solution. 
You can also scale up your monitoring capabilities with capnography, ECG monitoring and continuous SpO2 for patients who require additional attention.
You Asked for Simplicity. We Delivered.
The Spot Vital Signs® 4400 Device helps you capture, access, and document patient vital signs so you can focus on what matters most — your patients. Discover how the Welch Allyn Spot Vital Signs 4400 Device's blood pressure averaging function can help you accurately detect hypertension.
Want to learn more about blood pressure readings you can believe in? 
Connect with us today. 
Complete this form to learn more or schedule a demo.

References
Dr. Robert Smith, Analysis: David Quinn, Shawn St. Pierre and Pooja Sinha. Blood Pressure Averaging Methodology: Decreasing the Rate of Misdiagnosing Hypertension. 
Handler et al, 2012. Impact of the Number of Blood Pressure Measurements on Blood Pressure Classification in US Adults. The Journal of Clinical Hypertension.
Kallioinen et al.  Sources of inaccuracy in themeasurement of adult patients' resting blood pressure in clinical settings :a systematic review
Pickering TG, et al; American Heart Association; American Society of Hypertension; Preventative Cardiovascular Nurses Association. Call to action on use and reimbursement for home blood pressure monitoring: a joint scientific statement from the American Heart Association, American Society of Hypertension, and Preventative Cardiovascular Nurses Association. Hypertension. 2008 Jul:52(1):10-29.
American Heart Association. 2017 Guideline for the Prevention, Detection, Evaluation and Management of High Blood Pressure in Adults.
National Institutes of Health. National Heart, Lung, and Blood Institute. JNC 7 Express. The Seventh Report of the Joint National Committee on Prevention, Detection, Evaluation, and Treatment of High Blood Pressure.
Whelton PK et al ACC/AHA/AAPA/ABC/ACPM/AGS/APhA/ASH/ASPC/NMA/PCA Guideline for the prevention, detection, evaluation, and management of high blood pressure in adults: a report of the American College of Cardiology/American Heart Association Task Force on Clinical Practice Guidelines.
 Handler J. The importance of accurate blood pressure measurement. The Permanente Journal 2009; 13 (3): 51-54.
Statistics and user feedback mentioned in this document comes from the following study: Shruti Marwaha, Chris Long, Thomas John, Kimberly Koloms. Usability, Preference and Comparative Workflow Evaluation of a Next-Generation Vital Signs Monitor: A Prospective Observational Study. 2019-2020
Muntner, Paul et al. "Measurement of Blood Pressure in Humans: A Scientific Statement From the American Heart Association." Hypertension 73, no. 5 (May 1, 2019). Doi:10.1161/hyp.0000000000000087.
Meccariello M, Perkins D, Quigley LG, Rock A. Vital Time Savings. Eval Use an Autom Vital Signs Doc Syst a Medical/Surgical Unit JHIM.   2010;24(4):46-51
A reference to any product on this site does not imply that such product is or will be available in your location. Please contact your authorized country representative for specific product availability in your country. 
*Always Read Labels and Instructions for Use. Contact your Hillrom Representative for the latest version.